Along with the Landcruisers Lizzy, Lenny, and Whitney, Gaffkes Gardens and Landscaping maintains a fleet of purpose built machinery to complete your landscape professionally and efficiently.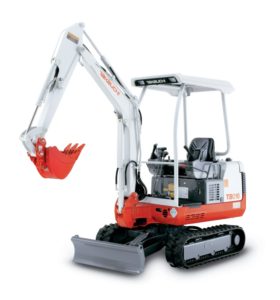 Esky
Takeuchi Excavator - 1.7tonne
Our Takeuchi excavator TB016 provides a nice blend of power and functionality. With a dig depth of 7 feet 10 inches (239cm) and a maximum reach of over 13 feet (396cm), this machine can really deliver on the most demanding jobsites. It provides productivity and performance comparable to larger machines due to it's precision pilot controls and four pump hydraulic system. With a retractable trackwidth of less than 1 metre this machine can easily travel through gates and manouver in tight residential areas where larger machines are at a disadvantage. This makes the TB016 perfectly suited for any jobsite big or small. The TB016 comes with both digging and mud buckets, ripper, and trenching bucket, log grab, and stick rake.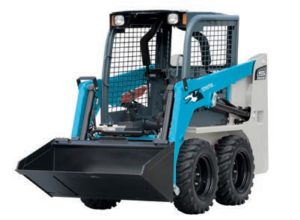 Skiddy
Toyota Skid Steer Loader SDK5
Our Toyota Huski SDK5 skid steer loader is a quick powerful machine, capable of performing all the tasks of the bigger machines, yet compact enough to fit in confined spaces. With attachments such as a 4 in 1 bucket, grader blade, auger, trencher, smudger bar, rotary hoe, and flail mower. It is a reliable and affordable way to get the dirty jobs done.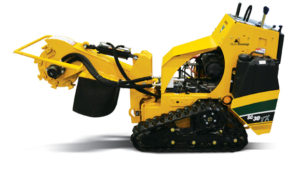 Stumpy
Stump Grinder Vermeer SC30TX
Our SC30TX Vermeer stump grinder is a machine that gets the job done. Key points include a 27hp (20.1kW) petrol kohler electronic fuel injected (EFI) engine. The hydrostatic ground drive and hydraulic cutter well drive eliminates belts and pulleys reducing maintenance time and cost. Other features include an operator presence handle design which provides additional capacitance sensing capability. Tow individually controlled tracks allow a zero turning radius increasing manoeverability on confined jobsites. Stump is a strong and reliable piece of equipment, with 3.6 pounds per square inch, it is perfect for those areas with turf, mulch and other rough terrains.
Zero and Katie
Zero the Toro Zero Turn Z Master 3000 offers the same time-saving speed and agility of a zero turn with the added strength and durability of a fabricated deck and heavy-duty transmissions. The convenient hour meter and height-of cut assist pedal also help you work smarter, not harder. With a 48 inch (121cm) cutting deck, any lawn will be done in no time.
Katie is powered by a high performing Kawasaki engine. Designed with the residential user in mind, the Kubota Z122R easily manoeuvres in and out of tight spaces without compromise to power. With a deep fabricated 42″ mower deck, this innovative mower offers unmatched comfort with excellent stability, well-placed controls and a low centre of gravity. Achieve your most precise cut ever with Kubota's innovative dial cam that makes adjusting cutting heights quick and simple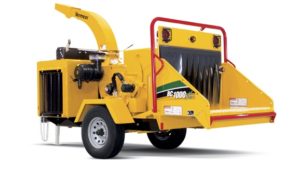 Vicky
Chipper Vermeer BC12000XL
When there's tough brush clearing work to do, you can count on our Verneer BC1200XL to handle it. Available with a 110hp (82kW) Cummins QSB3.3 Turbo Tier 3 Diesel engine, Vicky is rugged, powerful, and offers innovative features designed for safety and performance. Not only does it tear through material up to 12 inches (30.5cm) in diameter, it's patented productivity enhancements help make the job easy. Our chipper is a quick and reliable way to change any unwanted green waste into a useable mulching product.
Pasquali
Pasquali SB38 Walk Behind Tractor
The high versatility of our Pasquali two wheel tractor allows our customers to be satisfied, in every season of the year, with all their needs about the tillage of soil, as well as maintenance of their vegetable patches and gardens. With the ability to access almost all areas and with attachments such as a flail mower and rotary hoe, no job is too big or too small for our little walk behind tractor. You won't find a more versatile piece of machinery.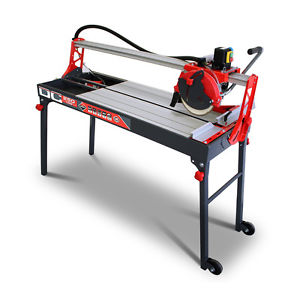 Rubi
Rubi DC-250 Wet Tile Cutter
The DC-250 saw is ideal for intensive cutting of glazed and stoneware tiles, as well as for porcelain tiles or cutting natural stone. The motor assembly of the DC-250 cutter is mounted on bearings, offering maximum precision and cutting quality. The continuous CEV-SUPERPRO diamond blade ensures a good quality cut in a variety of commonly used materials. Its large work area (1000 x485 mm) is ideal for working with large format tiles and has a water pump with flow control for blade cooling.